Nanovia face mask fabric – barrier against microorganisms and fine dust particles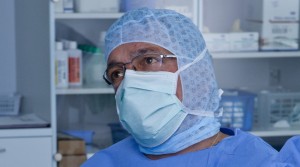 Face mask materials are intended for producing surgical masks or face masks against microorganisms and dust particles. The materials are also useful for the production of disposable interchangeable filters for face masks e.g. for athletes and motorcyclists.
Highlights of fabric laminates with nanofiber layer as compared to traditional SMS laminates for use in face masks
Nanovia face mask materials are highly effective filter materials enabling filtering microorganisms and airborne dust. They provide excellent physiological comfort when using them owning to their excellent breathability and moisture permeability.
Nanovia face mask fabric laminates form a barrier against penetration of microorganisms – bacteria, viruses, mould and fungi spores or dust particles on the principle of their mechanical detection. The following types of materials are offered by Nanovia within this group of materials:
Nanovia Surgical Mask 20 (SM20) – is a material suitable for manufacturing Class I surgical masks according to EN 14683
Nanovia Surgical Mask 40 (SM40) – is a material suitable for manufacturing Class II surgical masks according to EN 14683
Nanovia AntiVirus – is a material suitable for manufacturing class II surgical masks according to EN 14683, it provides 100% capture of allergens and bacteria and 99.9% capture of viruses without impairing the permeability and vapour permeability of the material as compared to surgical masks.
Nanovia Dust Protection PM 2.5 – is a material intended for the manufacture of face masks designed to filter out airborne dust and allergens of 2.5 µm in size.
Nanovia Face mask material resistance against the penetration of various species of microorganisms, dust particles and allergens is ensured by the nanofiber layer (Fig. 1) which is closed inside the fabric laminate. In principle, all fabrics are a three-layer sandwich which middle layer has a nanofiber structure. The size of interfiber pores in this structure is substantially smaller than the size of microorganisms, spores, allergens or dust particles. For example, Staphylococcus aureus size is about 1 micrometre, H1N1 virus size is approximately 150 nanometres (Fig. 2).
The above materials are produced by a combination of various kinds of non-woven fabrics – spunbond, meltblown – with respect to the parameters required by the standards. Mechanical consistency of the individual laminate layers is assured by fabric lamination process.
Leaflet
Datasheets
Our partners for the production of face masks are the following companies: New Future (Xiamen) Nano Tech. Co., Ltd.